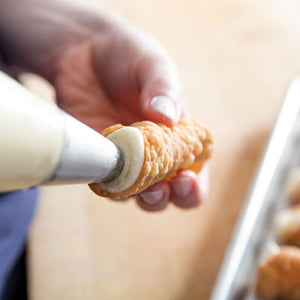 12 fresh cannoli shells, with fresh  frozen ricotta cheese filling, with Belgium chocolate chips. Ricotta will  keep for a longer period & the best part is you fill your
shells when you need them!  We'll
ship anywhere in the continental USA.
Please open your package as soon as it arrives, so that it can be stored properly to protect its sweet flavor and freshness. The Cannoli filling is prepared and then frozen in pastry piping bags prior to packaging your order for shipment.
Due to the warmer weather April through September, we can only ship Cannoli using Next Day Air service to guarantee the freshness.   Cannoli cannot be shipped to arrive Sunday or Monday. Our  Cannoli are packed very carefully by us on the day we ship your order. Due to the delicate nature of this product, we regret that we cannot replace cannoli shells that arrive damaged during shipping. We cannot guarantee holiday shipment for orders placed after December 10th All orders are subject to availability of product.